Anet A3 3D Printer Overview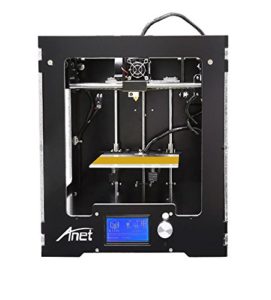 The Anet A3 3D Printer is a straightforward, easy to understand 3D printer available fully assembled or in kit form. But don't let the simple design fool you—the A3 is a fully-featured machine with little touches designed to get you printed right away.
The A3 by Anet is designed to be compact, durable and reliable. It fits easily on the desk, with a neat and tidy design. If you want to get printing with limited hassle, the A3 may be for you. The compact and smart design choices made by Anet mean that you don't need to make any sacrifices if you decide to go the DIY route and build this kit yourself.
Fitting with their design goals, the A3 3D printer comes packaged with everything you need to get started right away. If you purchase the A3 pre-assembled, expect to receive the 3D printer to arrive neatly packaged with a pre-calibrated heat bed. Inside the box, you'll find a filament sample, an SD card (including SD card reader) filled with software and sample models, and everything else you may need to plug in the Anet A3 and print on the spot.
The Anet A3 3D Printer is an affordable option on GearBest for those interested in 3D printing without having very much of a budget. For that reason, it makes a great first pre-assembled printer, and it doesn't cut corners to do so. The A3 aims to stay out of your way so you can get one step closer to holding your completed 3D print.
Anet A3 3D Printer Features and Specifications
Frame: Acrylic / Aluminum Composite
XY Axis Accuracy: 0.012 mm
Z Axis Accuracy: 0.004 mm
Extruder Diameter: 0.4 mm
Print Speed: 100mm/s
Print Volume: 150 mm x 150 mm x 150 mm
Nozzle Temperature: Up to 250° C
Build Platform Temperature: 50° C – 100° C
Compatible Materials: PLA, ABS, HIPS, Wood Poly, PVA, Nylon
Filament Diameter: 1.75mm
Data Input: microSD or USB
Have you used the Anet A3 3D Printer? Please comment and let the 3Dengr community know your thoughts, rating, or review on this 3D printer. Be sure to check out some of our other overviews of 3D printers on this site.