With so many options out there, it's hard to know where to start when you're on the hunt for SolidWorks educational material. To help narrow things down a bit, here are recommendations for 10 top SolidWorks 2018 books. See our other top SOLIDWORKS books post for more current versions. Let's get started!
If you're already an experienced SolidWorks user just looking to up your game, check out the top 7 productivity enhancements in SOLIDWORKS 2018 at SolidProfessor.
#10: SOLIDWORKS 2018 Quick Start with Video Instruction
by David C. Planchard, CSWP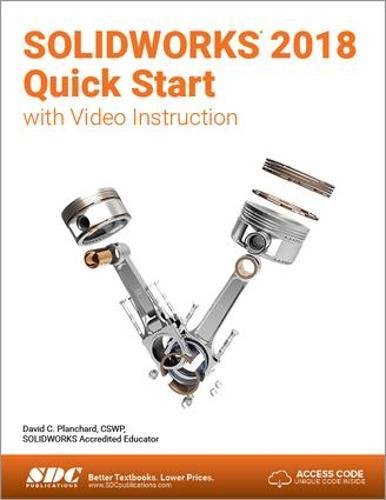 Buy on SOLIDWORKS 2018 Quick Start on Amazon
Number ten on our list introduces SolidWorks 2018 to new users through five complete lessons. Each lesson is complemented with video instruction, totalling five hours of informative content over the course of the program. Focus on improving your efficiency in key areas without a formal CAD course.
This guide is perfect for new designers and students who are looking to get started with SolidWorks quickly. Practice your design skills by replicating your own digital Sterling Engine, starting with the very basics of navigating SolidWorks. you'll be up and running in no time!
#9: Introduction to Finite Element Analysis Using SOLIDWORKS Simulation 2018
by Randy H. Shih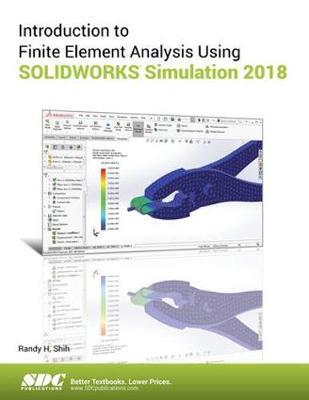 Buy Introduction to Finite Element Analysis on Amazon
This book walks you through an introductory lesson in the most important aspects of Finite Element Analysis with SolidWorks Simulation 2018 for designers and engineers.
Beyond a basic theoretical understanding of FEA, you'll learn practical procedures for performing modal analysis and linear static stress analysis with SolidWorks Simulation 2018. This book includes 14 lessons in total, from the direct stiffness method to 2D surface analysis and more.
#8: SolidWorks 2018 Black Book (Color Edition)
by Gaurav Verma & Matt Weber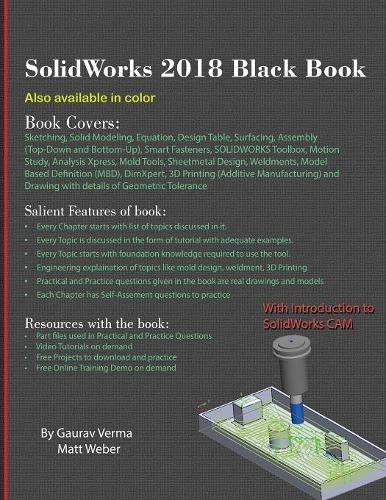 Buy SolidWorks 2018 Black Book on Amazon
In this 5th edition text (color edition) Gaurav Verma and Matt Weber introduce their step-by-step methodology for creating complex solid models with SolidWorks 2018. This new edition adds lessons on 3D printing, model-based definition and more.
From beginner to advanced features, the SolidWorks 2018 Black Book has you covered.
#7: SOLIDWORKS 2018: Learn by Doing
by Tutorial Books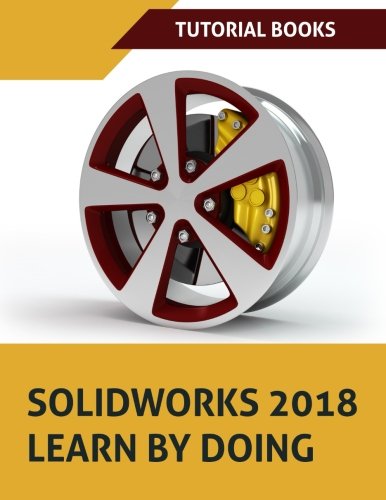 Buy SOLIDWORKS 2018 Learn By Doing on Amazon
The best way to learn is by doing, and this book is geared toward exactly that. Brand new users of SolidWorks 2018 can hop in to this tutorial-based guide featuring 14 individual chapters. Learn by starting with basic modeling, and move on to drafting, surface modeling, mold tools, DimXpert and more.
#6: Engineering Analysis with SOLIDWORKS Simulation 2018
by Paul M. Kurowski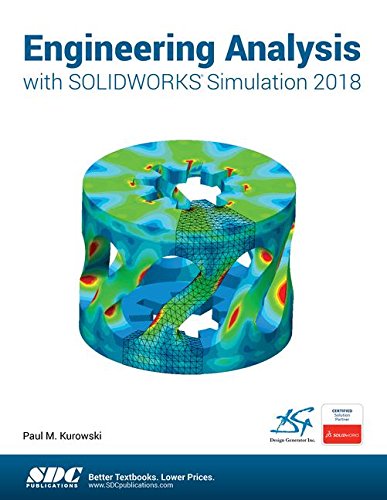 Buy Engineering Analysis on Amazon
Number six on our list aims to go "beyond the standard software manual." This series of hand-son exercises walks you through the fundamentals of SolidWorks Simulation 2018 and Finite Element Analysis. Work your way up from the basics to more complex vibration analysis and more.
#5: Certified SOLIDWORKS Professional Advanced Preparation Materials
by Paul Tran CSWE, CSWI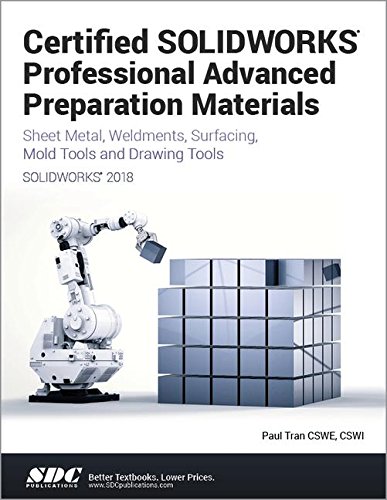 Buy Certified SOLIDWORKS Professional Advanced Prep Materials on Amazon
The fifth entry in our list is where things get serious. This book provides advanced prep materials for the CSWPA exams. Based on actual exam topics, this guide will prepare you for the CSWPA examinations in a clear and concise manner.
If you are interested in completing the CSWPA-Certifaction process, this book is a necessity.
#4: SOLIDWORKS 2018: Basic Tools
by Paul Tran CSWE, CSWI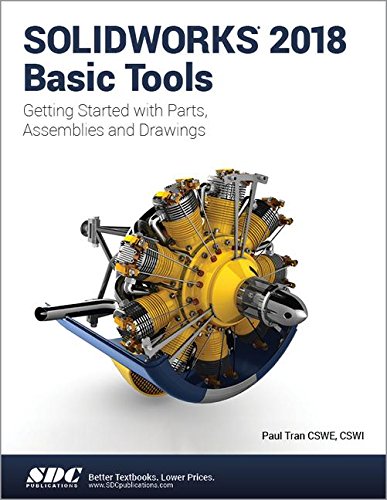 Buy SOLIDWORKS 2018 Basic Tools on Amazon
The first in a 3-part series, this book is yet another geared toward introducing new SolidWorks users to basic interface, tools and modeling techniques. This is the perfect starting point for building your foundation-level understanding of the SolidWorks software. At the end of this guide, you will be ready to start your CSWA preparations.
#3: SOLIDWORKS 2018: Intermediate Skills
by Paul Tran CSWE, CSWI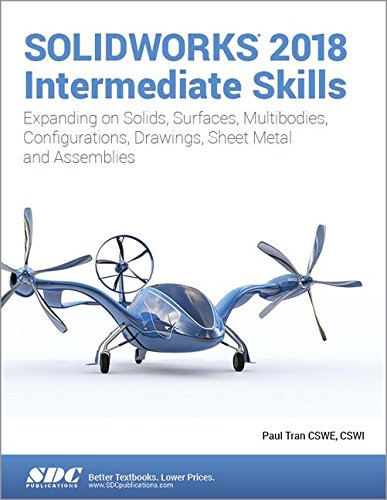 Buy SOLIDWORKS 2018 Intermediate Skills on Amazon
Building on SOLIDWORKS 2018 Basic Tools, this guide (also part of the same 3-part series as number four on our list) introduces intermediate tools like surveys, multibodies, how to generate engineering drawings and more. Essential prep for advanced SolidWorks functions, this step-by-step tutorial will have you designing real life objects.
This book is recommended for those already familiar with SolidWorks 2018, looking to expand their understanding of the software.
#2: Beginner's Guide to SOLIDWORKS 2018: Level 1
by Alejandro Reyes MSME, CSWE, CSWI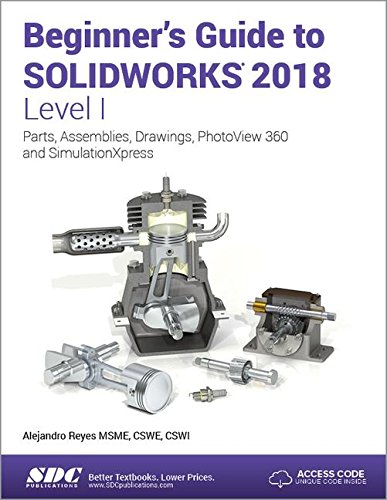 Buy Beginner's Guide to SOLIDWORKS 2018 Level I on Amazon
Once again, the most popular SolidWorks 2018 books continue a trend toward providing new users the most bang for their buck when it comes to educational resources. This book is geared toward providing new users a functional understanding of everything they need to know to complete models in SolidWorks 2018.
Rather than getting lost in the weeds with every individual command, this gbook instead focuses on the overall process of getting work done in SolidWorks 2018.
#1: SOLIDWORKS 2018: A Power Guide for Beginners and Intermediate Users
by CADArtifex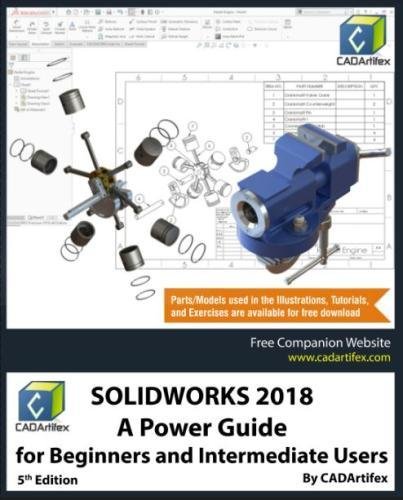 Buy SOLIDWORKS 2018 Power Guide on Amazon
Here we are a number one with the SolidWorks 2018 Power Guide for Beginners and Intermediate Users. This guide is meant to accompany instructor-led courses. Build as a teaching aid first and foremost, the Power Guide focuses on elements of design within SolidWorks, and is best geared toward a classroom environment.
SOLIDWORKS Books Summary
Solidworks is a computer-aided design (CAD) program, and there are many books available that provide information and guidance on using the program. Some examples of books that might be relevant to Solidworks include user guides and manuals that provide detailed instructions on how to use the program and its various tools and features. There may also be books that provide more general information on using CAD programs, including Solidworks, and offer tips and best practices for designing and creating technical drawings and models. Additionally, there may be books that provide case studies or examples of how Solidworks has been used in various industries, such as engineering, architecture, or product design, to help designers understand the potential applications of the program.
Looking for more great SOLIDWORKS resources? Get 30 days of free SOLIDWORKS tips and tricks in your inbox direct from the pros at SolidProfessor!