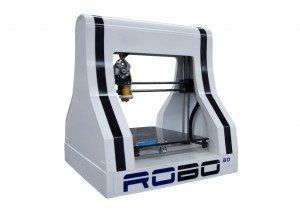 Be sure to check out the latest Robo R2 Smart 3d printer review.
The Robo 3D R1 is a very good printer and exceptionally good value. The printer comes fully assembled and requires minimal effort to become operational. It can print using PLA and ABS materials, as well as specialty materials. The all-metal-hot-end allows this printer to print with a wide variety of materials. The Robo 3D R1 prints at a resolution of 0.10mm. The Robo 3D R1 is capable of creating all kinds of objects of different shapes and sizes. With a maximum build volume of 10 x 9 x 8 inches, this printer can produce fairly large scale objects. 3D printers of equal size and ability can cost more than three times as much as the Robo 3D R1. The price discrepancy is undeniable and makes the decision easy for consumers purchasing their first 3D printer. The printer allows users to print items directly from an SD card. There is no need to leave a computer wired to the printer. This feature makes it ideal for multiple users. It is a great option for classrooms, libraries, or business, where multiple users is likely. The printer does not need to be placed on your desk. It can be nestled into a corner or put on display away from your workstation. The automatic calibration is a feature that truly separates this printer from others. Proper calibration is absolutely necessary for a successful print. Manually calibrating a machine can take time and technical knowledge. The feature makes the Robo 3D R1 especially user friendly. Calibrating this machine only requires you to bring the extruder head down until it touches the two different points of the build platform. Once that task is complete your Robo 3D R1 is calibrated and ready to print. This printer has a 100 micron resolution, which is quite incredible. This resolution is comparable to printers that cost more than 2 and 3 thousand dollars. The printer has only one extruder; it can print with only one color or material at a time. Consumers should consider a printer with dual-extruders if multi-color builds are a must.
Additional Features and Specifications
• High Quality Rods and Linear Bearings
• High Quality Linear Motion System
• Additional Printing Materials: LAYWOO-D3, t-glase, and other specialty filaments
• Spool Holder: 15 x 22 x 18.25 in (38.1 x 55.88 x 46.35 cm)
• Single Head Extrusion
• Heated Build Platform
• 0.4mm Hexagon All-Metal-Hot-End Prints with All Materials
• 1.75mm filament
• 8 Im8uu bearings for precision movements
• 5 Nema 17 motors
• 12V 30amps power
About Robo3D and Partners
The Robo 3D team is located in San Diego, CA. The Robo3D company partners with MatterHackers to help sell and market their machine. MatterHackers also has custom software called MatterControl that comes with the Robo 3D R1 at initial purchase. This software ensures proper builds and performs slicing duties. Robo3D started as a Kickstarter project. The company received an unprecedented amount of initial orders. Now the company is more established and able to process traditional orders. They continue to make improvements to their technology. Robo 3D offers a 6 month warranty that covers all replacement parts. Customers who order through MatterHackers receive their technical support along with Robo 3D's warranty. MatterHackers has all the different filament materials for Robo 3D R1 users to replenish.
Robo 3D R1 has a lot of great features at an excellent value. 3D printing enthusiasts that are searching for their first 3D printer at a minimal expense should definitely consider this printer.
Be sure to check out the latest Robo R2 Smart 3d printer review.