HICTOP CR-10S 3D Printer Overview
In the past, we've covered a number of HICTOP-branded 3D Printers, like the HICTOP 3DP-18 and the HICTOP Creality CR-10. Today, we're taking a look yet another product release from HIC Technology, the HICTOP CR-10S 3D Printer.
The CR-10S is—as you might be able to guess—an upgrade to HIC Technology's popular Creality CR-10 3D printer. Like the CR-10, the CR-10S is sold as an easy to assemble DIY kit, but with a number of changes to improve your printing experience.
The CR-10S is still a great way to get into 3D printing with a flexible build space and continuous working time of more than 100 hours. While this is a "DIY kit," HIC Technology exceeds expectations by pre-assembling and wiring the major components, which means you only need to connect three pieces to get started. So why would you pick the HICTOP CR-10S over its smaller cousin the CR-10 3D printer?
The biggest advancements HIC Technology has made with the CR-10S come in the form of greater stability and consistency. The HICTOP CR-10S 3D printer features an all new dual Z-axis lead screw rod to improve print quality across the board. Additionally, the CR-10S includes a filament level monitor to alert you of low filament, as well as the ability to resume prints in the even of a power outage. Both of these upgrades are well worth picking the CR-10S over the CR-10 if the ability to "set it and forget it" are important to you.
HICTOP CR-10S 3D Printer Specifications:
Print Bed: 300mm x 300mm x 400mm
Printing Tolerance: ±0.1mm
Layer Thickness: 0.05 – 0.4mm
Nozzle Temperature: 250°
Extruder Temperature: 210°
Heated Bed Temperature: 50°
Printing Speed: 80mm/s – 200mm/s
Materials: 1.75mm PLA
Recommended Work Temperature: 10 – 30°
Recommended Work Humidity: 20 – 50%
Nozzle: 0.4mm, 0.3mm, 0.2mm
Included in the Box:
HICTOP 3D printer DIY kits (including build plate and tempered glass)
Spare screws and Wrench kits
Assembly instructions and user manual.
TF card (includes digital instruction materials)
0.2kg PLA Filament
Additional Product Details:
| | |
| --- | --- |
| Part Number | 3DP-22 |
| Number of Items | 1 |
| UPC | 649910157529 |
| Brand Name | HICTOP |
| EAN | 0649910157529 |
| | |
| --- | --- |
| Item Weight | 22.7  pounds |
| Model Number | 3DP-22 |
| Size | M |
| Voltage | 240.00  volts |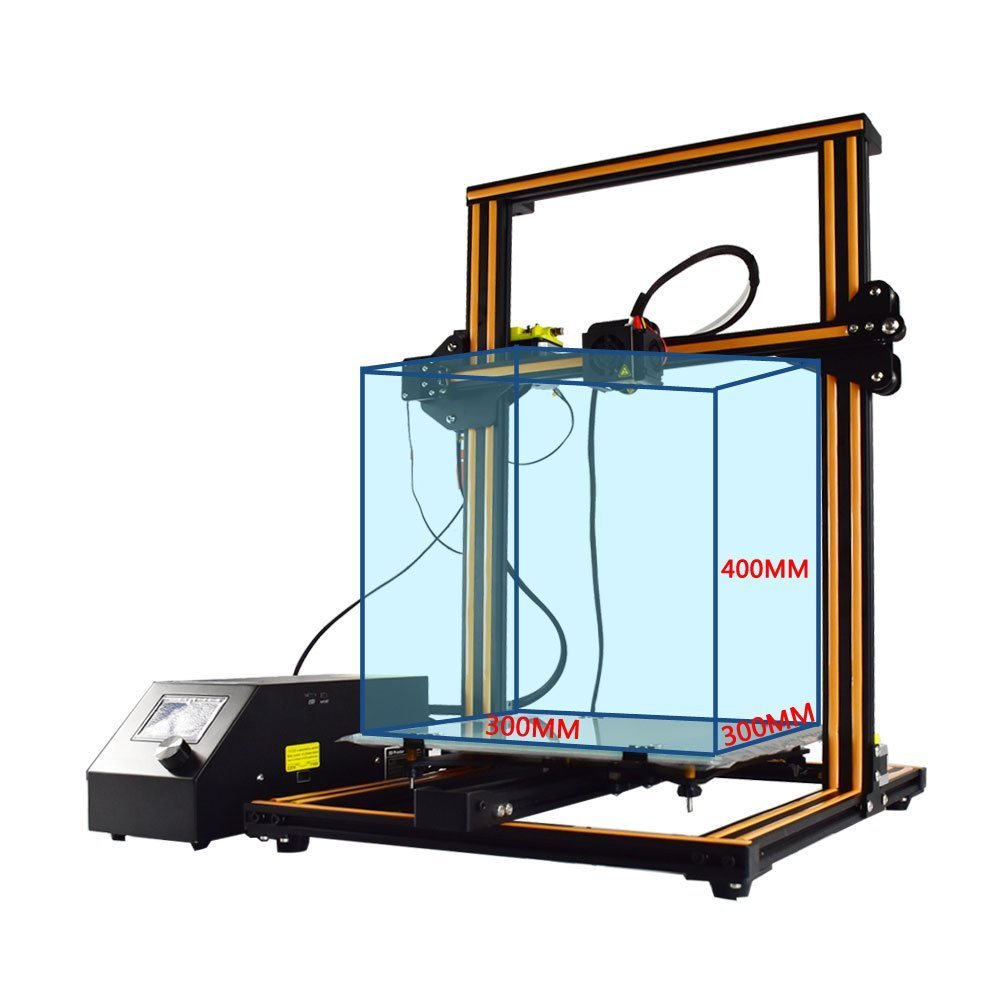 Have you used the HICTOP CR-10S 3D Printer? Please comment and let the community know your thoughts, rating, or review.